Mr. Pin Books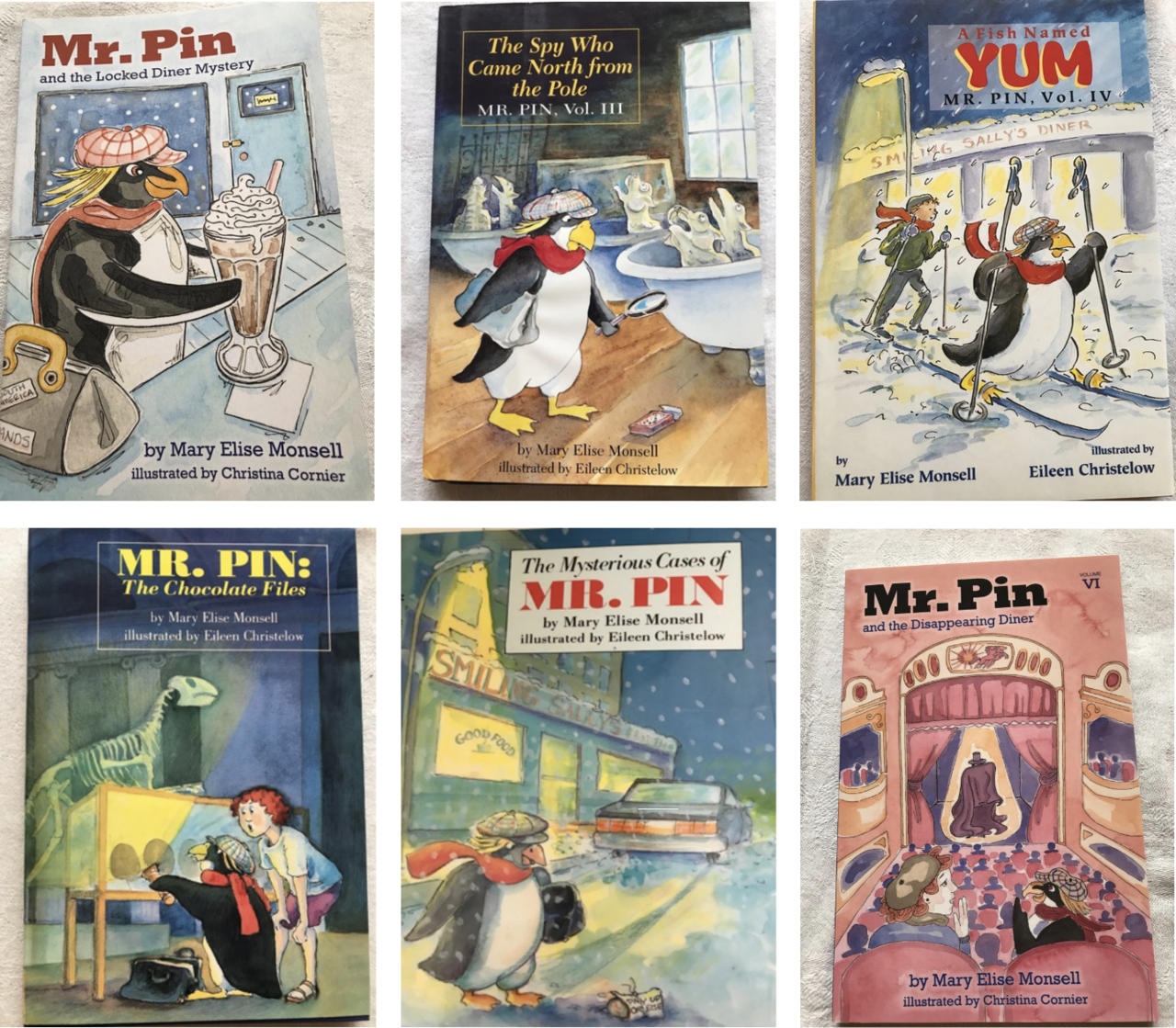 Welcome to Smiling Sally's Diner, home of rockhopper penguin detective Mr. Pin and his friend Maggie. Together they have solved some of Chicago's most puzzling mysteries, including stolen dinosaur eggs, a missing Picasso, a disappearing conductor, baseball pitchers with mistaken identities, and even a lost diner.
Suddenly a rock hit a streetlight. Glass splintered. A black car squealed around the corner and disappeared.
Mr. Pin picked up the rock. A note was attached. "Pay up or else," it said.
"Could be trouble," Mr. Pin said out loud, putting the rock into his black bag. "Looks like I arrived in Chicago just in time."
Just ahead was a diner — Smiling Sally's Good Food.
I wonder if the rock was meant for that diner, thought Mr. Pin.
The windows were iced over and Mr. Pin went inside…

—The Mysterious Cases of Mr. Pin
Mr. Pin is an International Reading Association/Children's Book Council Children's Choice and Trumpet Book Club best seller.
Mr. Pin was transformed into a musical and performed by Runamuk Productions at Live Bait Theater.
An audio reading of Mr. Pin is available through Recorded Books.
"Mr. Pin, a South Pole native recently arrived in Chicago is a most unusual detective—a chocolate-loving penguin. Lively plotting, staccato, deadpan delivery in whimsical parody of Dashiell Hammett; an economical style and carefully controlled repetition of ideas and phrases… and an engaging hero."
— Kirkus Reviews

Mr. Pin books:

The Mysterious Cases of Mr. Pin, illustrated by Eileen Christelow
Mr. Pin: The Chocolate Files, illustrated by Eileen Christelow
The Spy Who Came North From the Pole, Mr. Pin, Vol. III, illustrated by Eileen Christelow
A Fish Named Yum Mr. Pin, Vol. IV, illustrated by Eileen Christelow
Mr. Pin and the Locked Diner Mystery, illustrated by Christina Cornier
Mr. Pin and the Disappearing Diner, illustrated by Christina Cornier
---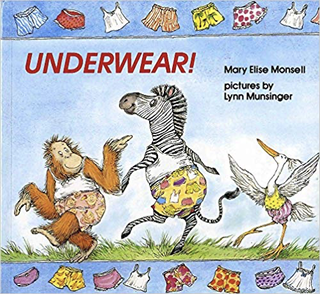 Underwear!
Celebrating 33 years in print, bringing laughter and joy to children in several languages.
Underwear! brings friendship to the grasslands where an egret and a zebra can feel sorry for a gloomy buffalo. "It is a tragedy," said Zachary, "to be clever but not happy."
"Just a'struttin and a'prancin and bedecked to beat the band in heart-spattered drawers comes Bismark the Buffalo – but only after a remarkable metamorphosis. Bismark's friends, Zachary Zebra and Orfo the Orangutan, love underwear and journey each year to the World's Greatest Grassland Underwear Fair, buying all manner of multihued and patterned undergarments. At first grumpy Bismark eschews any notion of having fun and snorts, "Underwear is useless!' … A great read-aloud choice."
— Booklist
---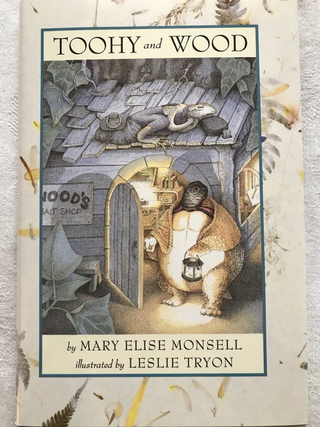 Toohy and Wood
Though Toohy and Wood begins with a great loss, what happens next is what is so important in life and in this story. With humor and caring, a crusty turtle named Wood helps Toohy discover that what he really wants is within his heart.
"The author of several witty fantasies (Crackle Creek), creates another animal world, this time treating a serious theme with gentle dignity. Toohy is a lizard whose simple joys include sitting on a fence and entertaining in his cozy underground home. When fire sweeps their area, his dearest friend Pearl, a motherly dove who had planned to teach Toohy to read, is killed, while the wisecracking toads who enlivened their parties disappear.
Clinging to Pearl's violin, Toohy escapes underground and lands in new territory — on the roof of Wood, a turtle who keeps a bait shop. How gruff Wood takes Toohy in, helps him pursue his wistful quest for a new fence, shares his poetry, and teaches him to read ("Pearl would like that," says Toohy; "Fence lizard," replies the turtle, "someday, you will like that") makes a quietly reassuring story: Though Toohy says little about his grief, he is comforted, though dispossessed, he finds hope of a new home."
—Kirkus
---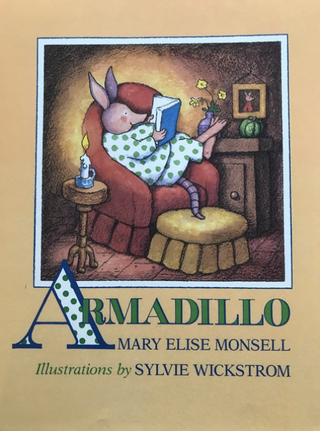 Armadillo
This is a book lover's book with Armadillo always finding solace from bad weather with a good book and a cozy nap. His friends wonder about his well being until it is Armadillo who clears up the mystery.

"Fetching paintings filled with child-appealing animal characters illustrate this sweet story, which captures the give and take of friendship in a way that's every bit as comfy as Armadillo's hospitality."
— Booklist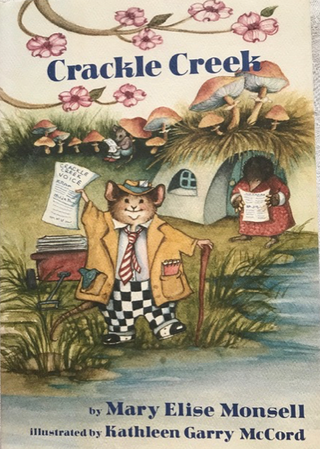 "As in The Mysterious Cases of Mr. Pin, Monsell's style is brisk, and economical, with frequent repetitions of sound and sense adding both clarity and comedy. There's never a dull moment here; best, the wholesome message is cheerfully delivered by the actions of the lively characters. A great candidate for a sequel!"
— Pointer Kirkus review